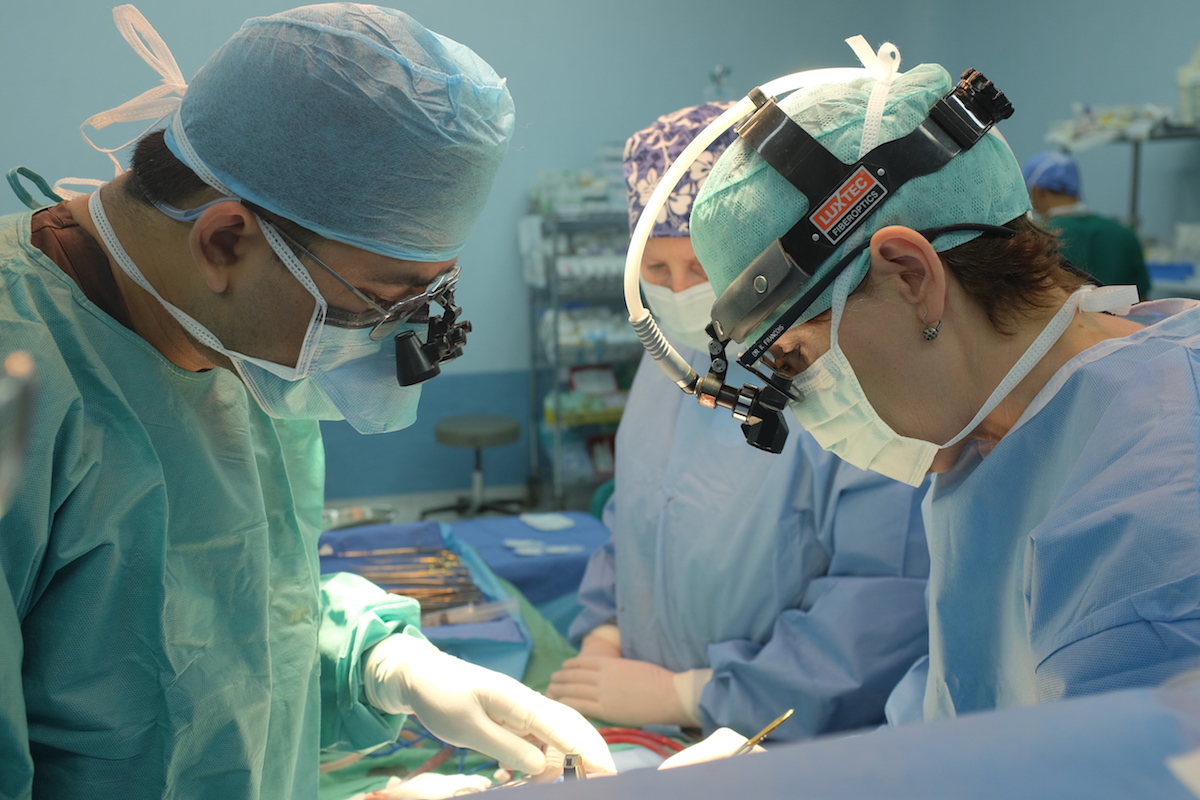 Nicaragua, Managua, Hospital "La Mascota"
The Chain of Hope Belgium has been active since 2001 in Nicaragua. It carries out cardiac surgery and catheterization, urological surgery and orthopaedic surgery at the Hospital Infantil Manuel de Jesus Rivera "La Mascota" in Managua, a paediatric public hospital under the supervision of the Ministry of Health (Minsa). The number of children treated since 2001 during the missions of the Chain of Hope Belgium includes 155 cardiac children (115 surgeries and 40 cardiac catheterizations), 24 children with orthopaedic malformations and 80 children with malformation in the area of urology.
Thanks to the Chain of Hope Belgium, several Nicaraguan specialists have also benefited from university scholarships to spend academic years at the Cliniques universitaires Saint-Luc: a cardiac surgeon (2003-2007), a cardiologist (2003) and an orthopaedic surgeon (2013-2014).
Hospital support for urological surgery and paediatric orthopaedics during missions is provided in direct collaboration with Nicaraguan partners without any external expertise. For the cardiology and cardiac surgery component of the project, Chain of Hope Belgium has joined forces for the organization of missions with the American NGO "Surgeons of Hope", which coordinates the international cardiac surgery teams present and active in the same project.
Objectives of the long-term project
The three paediatric disciplines (cardiac – urological – orthopaedic) targeted by the Chain of Hope Belgium project in Nicaragua each require varied support (in terms of technical skills of the local team, equipment, etc.).
For the cardiac component, the local unit specializing in paediatric cardiology has good skills but, given the workload and in order to ensure operational continuity and care, the paediatric cardiology team could be composed of 2 to 3 people. At the surgical level, due to a recent team change (2014), the skills of current surgeons are not sufficient to carry out operations at the cutting edge. A weakness also remains in the area of anaesthesia: during missions, few or no anaesthetists are present. In intensive care, paediatric resuscitators and nurses are demanding and conscientious, but their lack of experience (few cardiac interventions outside of international missions) prevents them from being fully autonomous. Each year during the missions, theoretical training, on the basis of syllabuses drafted by the Belgian team and translated into Spanish, is provided to the Nicaraguan specialists in addition to the daily practical experience.
In the area of urology, the head of mission is really satisfied with the progress made by the local surgeon. Some complex actions are now being realized in full autonomy compared to the situation at the start of the activities of Chain of Hope Belgium. The support provided to the local urological surgeon lies mainly in the acquisition of very specialized techniques.
And for the orthopaedic component, the local team has acquired the skills necessary for the use of external three-dimensional fixators.  No missions took place in 2016.In terms of the continuing training of local orthopaedic surgeons, further missions will be considered based on the requests of the hospital.