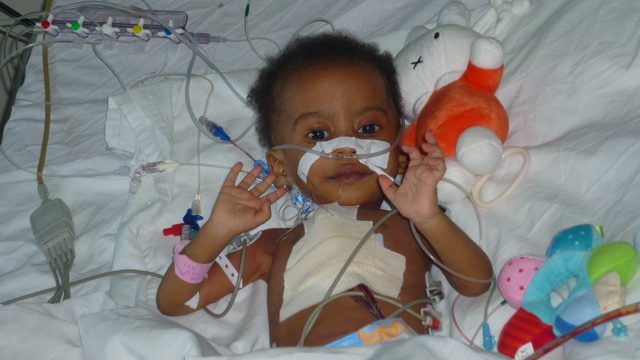 Rwanda, Kigali, King Faisal Hospital

In 2006, Chaîne de l'Espoir began a two-pronged intervention in Rwanda after a request from Rwandan cardiologists who came to train in Belgium:
Confirm the diagnosis made by local cardiologists.
Ensure the treatment and medical/surgical follow-up of children suffering from cardiac pathologies that cannot be treated in Rwanda due to lack of technical skills and specialized equipment.
Since then, the activity of Chaîne de l'Espoir in Rwanda has been organized around two annual events:
A short cardiology mission aimed at pre-selection of children to be operated on.
A cardiac surgery and catheterization mission, including childcare, supplies and equipment, and the support of Rwandan specialists in the development of their continuing education through the transfer of skills. This support is organized in collaboration with specialists from international NGOs active in the cardiac field: "Team Heart," "Healing Hearts Northwest" and "Open Heart International."
During more than ten years of activity, more than 500 children have been examined and have undergone a complete ultrasound to clarify the diagnosis and confirm their treatment. During 9 medical/surgical missions, there were 150 cardiac interventions. Equipment, medicines and specialized equipment not available on site were routinely provided to local teams by Chaîne de l'Espoir.
During 2009-2015, Chaîne de l'Espoir also made it possible for cardiologists, anaesthetists and resuscitators to take specialized training courses in Europe.
Objectives of the long-term project
The excellent collaboration between Rwandan paediatric cardiologists trained in Belgium and the Chaîne de l'Espoir team since the start of the project allows continuous monitoring of children at all levels: diagnosis, preoperative care, medical and surgical treatment, follow-up, etc. This collaboration has also made possible the launch of cardiac catheterization, a technique that had never before been used in the country.
Today, Chaîne de l'Espoir and its international partners are part of the government program for the control of non-communicable diseases (NCDS) in Rwanda, which includes the management of certain diseases of the heart. The common objective of these collaborations, in close association with the Rwandan health authorities, is the attainment of the autonomy of local teams for the treatment of adult and paediatric heart defects.
However, this goal of empowerment is still far from being achieved: except during foreign missions, neither paediatric cardiac surgery nor catheterizations are currently practiced in Rwanda. The training of paediatric cardiologists, surgeons, paediatric resuscitators, anaesthesiologists and the healthcare team are now a priority.
The consolidation of skills and the continuing training of Rwandan specialists in the various disciplines related to cardiac pathologies remain the cornerstone of Chaîne de l'Espoir Belgium's project for the development of specialized paediatric care in Rwanda..
With the support of