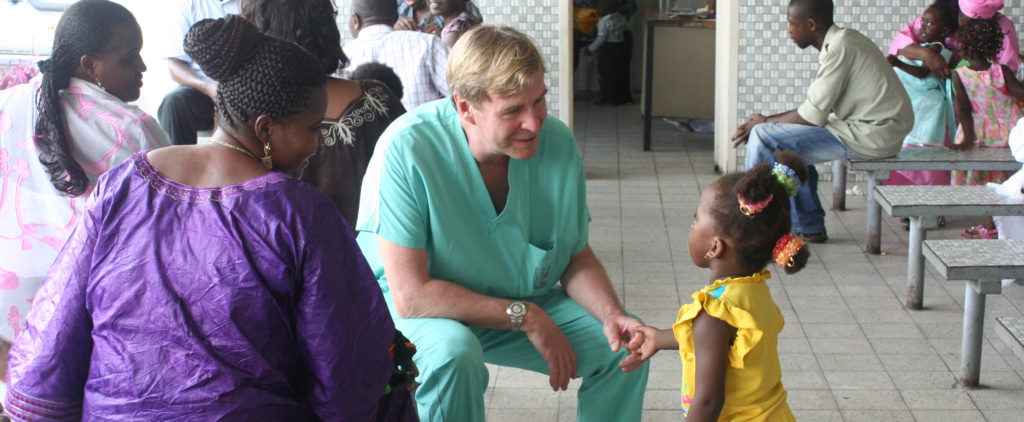 Vision
Every child has the right to quality healthcare regardless of his/her country of origin or socio-economic situation.
Mission
Chaîne de l'Espoir Belgium contributes to improving access to quality, specialized healthcare for children from developing countries, supports local hospitals, trains their staff and cares for and operates on ill children.
Beneficiaries
Who do we help? Children suffering from congenital diseases and defects in areas such as cardiology, orthopaedics, ENT, facial, urology, neurology, etc.
Expertise
During medical and surgical treatments, the children are cared for by our volunteer medical and paramedical experts and NGO volunteers: doctors, surgeons, resuscitators, nurses, physiotherapists and biotechnicians who specialize in caring for children.
Strategic objectives

Strengthening children's access to specialized paediatric healthcare, including:
Medico-surgical management in our partner countries, as well as in Belgium, when the children cannot be treated in their home countries.
Advocacy in partner countries, as well as raising awareness in Belgium.
Research and implementation of solutions for financial access to specialized health care.
Improving the quality of health care for children includes:
The theoretical and practical training of local multidisciplinary teams in the partner country abroad.
Strengthening the technical and health environment of partner hospitals.
Curing a child is offering him a future!
The Team
The Chaîne de l'Espoir (Chain of Hope) Belgium is a real human chain that operates thanks to the commitment of its diverse and skilled people who use their know-how to benefit sick children.
Board of directors
Members of the Board of directors:
      Professor Jean RUBAY,  President, cardiac surgeon
      Mr. Guido DE WACHTER, Vice-President and former hospital Director
      Mr. Jacques LAFFINEUR, Secretary
      Mr. Thierry van den HOVE, Treasurer
Directors
     Dr. Geoffroy de BECO, cardiac surgeon at Cliniques universitaires Saint-Luc, Brussels
     Dr. Damien DESMETTE, orthopedic surgeon, Ambroise Paré Hospital, Mons
     Professor Pierre-Louis DOCQUIER, orthopedic surgeon, Cliniques universitaires Saint-Luc, Brussels
      Mrs. Nathalie RYSHEUVELS-WIRTZ, PR Consultant
     Mr. Walter TORRES-HERNANDEZ, International Relations Consultant
     Mrs. Valérie WEYTS, lawyer with

"VRONINKS, RICKER & WEYTS, Brussels
The Office
The office team consists of  team of 7 employees, assisted by volunteers.
Director: Anita Clément de Cléty
Finance: Xavier Poncelet
Communication, Fundraising, Events: Catherine de Pierpont and Patricia le GRELLE
Project Management: Marianne LE MARCHAND , Dory MOUTRAN and Chiara CARBONE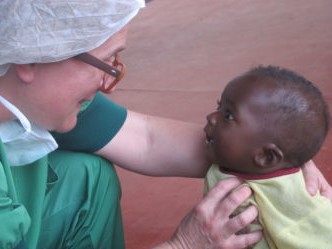 The Chain of Hope Belgium is mainly supported by private funds. In december 2013, the NGO received its firts public financing through Wallonie-Bruxelles International. Since 2014, it can also rely on financing through the Belgian cooperation for its action in DRCongo and from Wallonie-Bruxelles International for its projects in DRCongo and in Senegal.
Throughout the year, Chain of Hope Belgium raises money in 2 ways :
– events that benefit the organisation: sport, culture, product sales, activities organized by volunteers,…
– awareness building towards private donors and foundations, companies, schools, associations, …
Chain of Hope Belgium is delivering tax return documents for donations of 40 euros/year and more.
Transparency
The association is member of the  A.E.R.F. , which offers guarantees in terms of ethical fundraising and financial transparency. The annual accounts are certified by a registered accountant and revised by the audit firm Deloitte.
The financial statements are available at the National Bank and published on ong-livreouvert.be, bonnescauses.be, donorinfo.be and philantropie.be.
It is thanks to the generosity of our donors that we can continue our action.
FINANCIAL DATA 2022
Revenues 2022

Expenditures 2022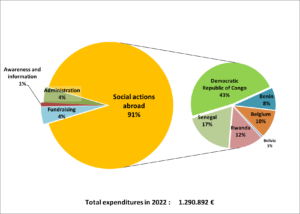 Chain of Hope Belgium is delivering tax return documents for donations of 40 euros/year and more.