Ariane Ndayikeje, a young paeditrician from Rwanda, is in Belgium for a training in the Intensive Care Unit for children at the Cliniques Universitaires Saint-Luc in Brussels. This training will teach her new competencies that she can apply back home in the Oshen King Faysal Hospital in Kigali, long-time partner hospital of Chain of Hope Belgium for pediatric care.
See section "Our projects" for more information about the action of Chaîne de l'Espoir Belgique in Rwanda.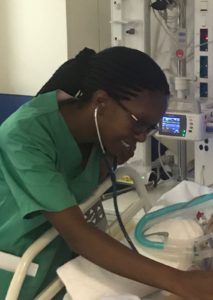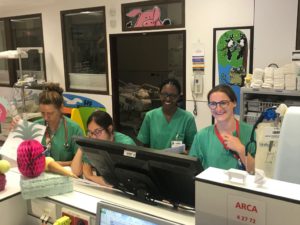 Ariane here together with the team at the ICU in the Cliniques universitaires Saint-Luc in Brussels
Godelive Basemenane is an epidemiologist, in charge of risk management in the Ngaliema Clinic in Kinshasa, DR of Congo. She currently follows a 3 months training in the Quality Department of the Grand Hôpital in Charleroi. Hygiene, correct identification of patients and of their medical information, blood monitoring and more generally risk management in a hospital, are some of the topics that will be covered during her training.
See section "Our Projects" for the action of Chaîne de l'Espoir Belgique in the Democratic Republic of Congo.
To learn more about our action supporting training of medical and paramedical staff, see our section "Training in Belgium and abroad".