Kenia, a little girl from Ruanda who has been operated on of a serious heart disease in the Cliniques Universitaires Saint-Luc in Brussels is back home!
Each strong link in our Solidarity Chain has payed a very important role : her Foster family, the surgeon who operated her, the medical team who took care of her, the  voluntary who from Aviation Sans Frontières who took care of her during her trip, and all people who have made this wonderful story possible: schools, racers of the Brussels' 20 kms, people and companies who collcted funds for her,..
A new life starts for Kenia today!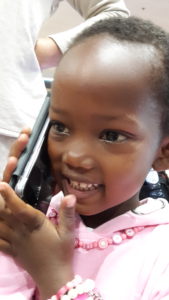 Kenia calls her mum from the Airport: I'm back!