Jean-Paul en Melvine, both coming from DR Congo to be operated on in Belgium from a serious heart-desease are both doing good!
Jean-Paul, 12 years old, currently spends his last days in Belgium: during his last consultation at the hospital, he received permission from his doctor to go back home, and his gold medal for the courage shown !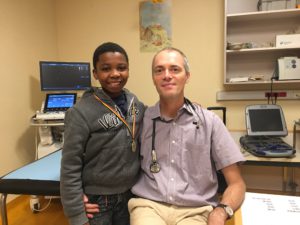 Jean-Paul, hier together with Doctor Stéphane Moniotte, during his last consultation
A big tank you to all people who supported us and made this story possible: the cyclists from the Tour de FRance, bank Puilaetco and our generous donors!

Melvine, 4,5 years old, was also operated on from a heart malformation and is now in revalidation with his host family. He stays in touch with his dad via telephone and skype. The entire family is so grateful to see hom coming back soon, a healthy boy with a bright future !