Our teams are preparing the next missions of Chaîne de l'Espoir Belgique abroad: administrative procedures, medical equipment, detailed programme… find us on our Facebook page in order to live through these moments as closely as possible!
Senegal, Dakar, urological surgery mission
A team of Chaîne de l'Espoir Belgique will go to Albert Royer Hospital from 23rd to 30th March in Dakar.
The project of urological surgery will gradually take into account the management of sexual ambiguities, which is a genuine issue in Senegal, with a fairly high incidence.
Whereas in Belgium the services specialized in the treatment of this kind of malformation accommodate three to four patients a year, the waiting list at the Albert Royer hospital of children is quite long…20 families have already taken the step to contact the hospital in order to find a medical solution allowing to aleviate the distress of their child. And this only the tipping point of the iceberg, since this remains a sensitive issue, and sometimes a taboo.
This high incidence in the country can probably be explained by the issue of consanguinity, especially in the rural areas, by of the late detection of cases or by some environmental factors which have a known influence on a whole series of birth malformations. Chaîne de l'Espoir Belgique wants to bring to its partners a comprehensive support to help these children: the mission will consist of a surgeon, a specialized nurse, an endocrinologist and a child psychologist. Each of them will offer specific support to their local colleagues, and the whole team will work on a multidisciplinary approach model that can be maintained in the long run.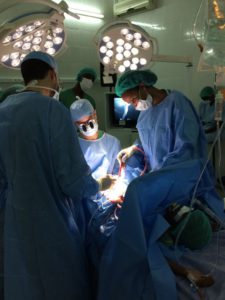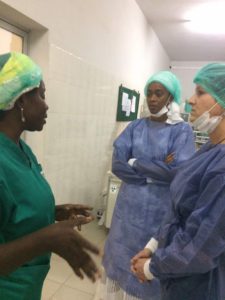 Tanguiéta, Benin, orthopaedic surgery mission
From 1st to 12th March, a multi-disciplinary team (surgeon, nurse, anaesthesist…) coming from various Belgian hospitals – Hôpital Erasme, Grand Hôpital de Charleroi, Groupe CHIREC – will go to hospital Saint-Jean de Dieu in Tanguiéta for an orthopaedic surgery mission under the responsibility of the head of the mission Fabian Mungondo.
On the agenda: specialized consultations in order to refer children to appropriate care, checking and approbation of weekly schedule of operations, lower and upper limbs operations for dozens of children, post-operative follow-up… and heart-warming encounters between team members who help and support each other in curing children!